Spring 2020 brought a lot of change. Inventors students taking practicum courses rose to the challenge of change and uncertainty with empathy, drive, and creativity. Celebrate student accomplishment with us by reading summaries of the practicum course students and projects from our undergraduate TAs.

Browse our Inventors Showcase Site to get a snapshot view of student projects 2/3rds of the way through the Spring semester.
Hacking for Defense Course
The Hacking for Defense program is sponsored by the National Security Innovation Network and powered by BMNT, Inc and the Common Mission Project. Taught by Dr. Bryan Davies and supported by Dmitriy Sychev and Zaina Bathily.
"Hacking for Defense course for Inventor's Program took an unpredicted turn this semester. Students have faced the challenges that were never seen in the course before. Despite the circumstances, the student projects turned out to be great. It was breathtaking seeing students succeed in the course without access to the usual materials and resources that we have on campus. This semester was indeed challenging for H4D course, yet students were able to pass through the obstacles and accomplish great things.
"Ensuring Student Accountability" team had developed an inexpensive and portable RFID system to monitor students at the San Antonio Air Force base, ensuring secure access for students and an easy way to format and export data for officers.
"Chemical and Biological Warfare Sensing" team came up with a cost-effective and safe approach in determining chemical agents present in the area without in-person human interaction with the chemicals.
"Power for Soldiers" team achieved their goal in integrating power delivery into mounting solutions for various soldier sensors and equipment. They created a way to power various soldier equipment using a helmet-based rail, which turned out to be more effective than the current technology used.
"Water Quality" Team had a problem statement that soldiers needed a way to purify water in the field; however, the team thought globally and tackled down the problem of obtaining drinkable water for everyone. The team came up with a prototype of a portable filtration system using UV light.
Team "Stressed Out" had worked on a solution to empirically identify suicidal ideation in Airmen. The team worked hard to create a sweat based sensor prototype to measure cortisol levels and a statistical model to track a personalized stress profile.
This was a challenging semester as we had much less in-person interaction between the students and a teaching team. Despite that, Dr. Bryan Davies, Sophia Johnson and TAs (Zaina Bathily and Dmitriy Sychev) tried to assist students in any way possible. The collaboration of the teaching team and student teams led to the successful execution of the projects." - Dmitriy Sychev and Zaina Bathily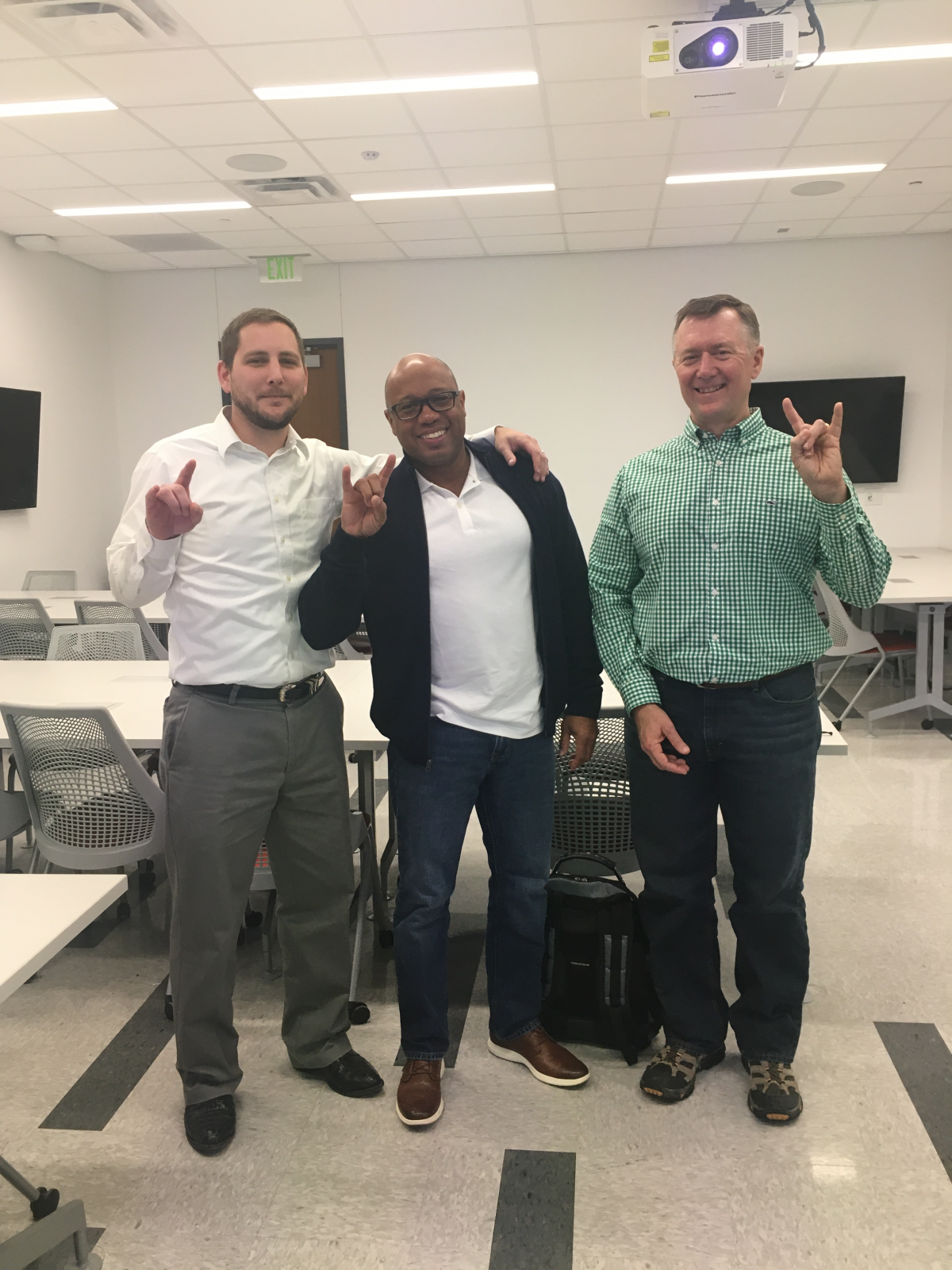 STEM National Policy Course
The LBJ School's Intelligence Studies Project offered this course in collaboration with the Inventors Program to provide an opportunity for STEM students to apply their knowledge to challenges at the intersection of emerging technology and policy. Stratfor, an American Geopolitical Intelligence company based here in Austin, supplied students with authentic analysis projects and mentorship. Taught by Dr. Alan Kessler, Resident Intelligence Officer, and supported by Ryan Kohanski and Shreya Saha.
"Throughout the STEM for National Policy course, students met with one another to face interesting problems relating to certain policy and regulations that can be solved through the application of typical STEM fields such as nuclear warfare, disease, cyberwarfare, genetic engineering, robotics, AI, additive manufacturing, and more. The students worked in groups to work on case real-world case studies in order to brainstorm and plan out solutions to some of the world's most pressing issues such as the threat from North Korea's nuclear arsenal. This course featured many distinguished guest lecturers including John Brennan, the former Director of the CIA, and more.
The final projects allowed students to develop their communication, teamwork, problem solving, and presentation skills by working with one another to present solutions in research regarding solutions to water mitigation for rural crop development, flagging risk of biowarfare attacks supported by publicly available research, protection of food animals from biological terrorist attacks, as well as assessing future energy needs.
This course provides students with an opportunity to apply their skills and interests to real-world national security challenges facing the U.S. defense and intelligence communities. Students will learn about the structure and process of national security decision making and gain insight into how national security agencies understand and respond to threats and opportunities posed by emerging technologies. Students will develop a deeper understanding of national security problems and draw on their science, technology, engineering, or mathematics (STEM) backgrounds to define, ideate, and prototype novel solutions to national security challenges." - Ryan Kohanski and Shreya Saha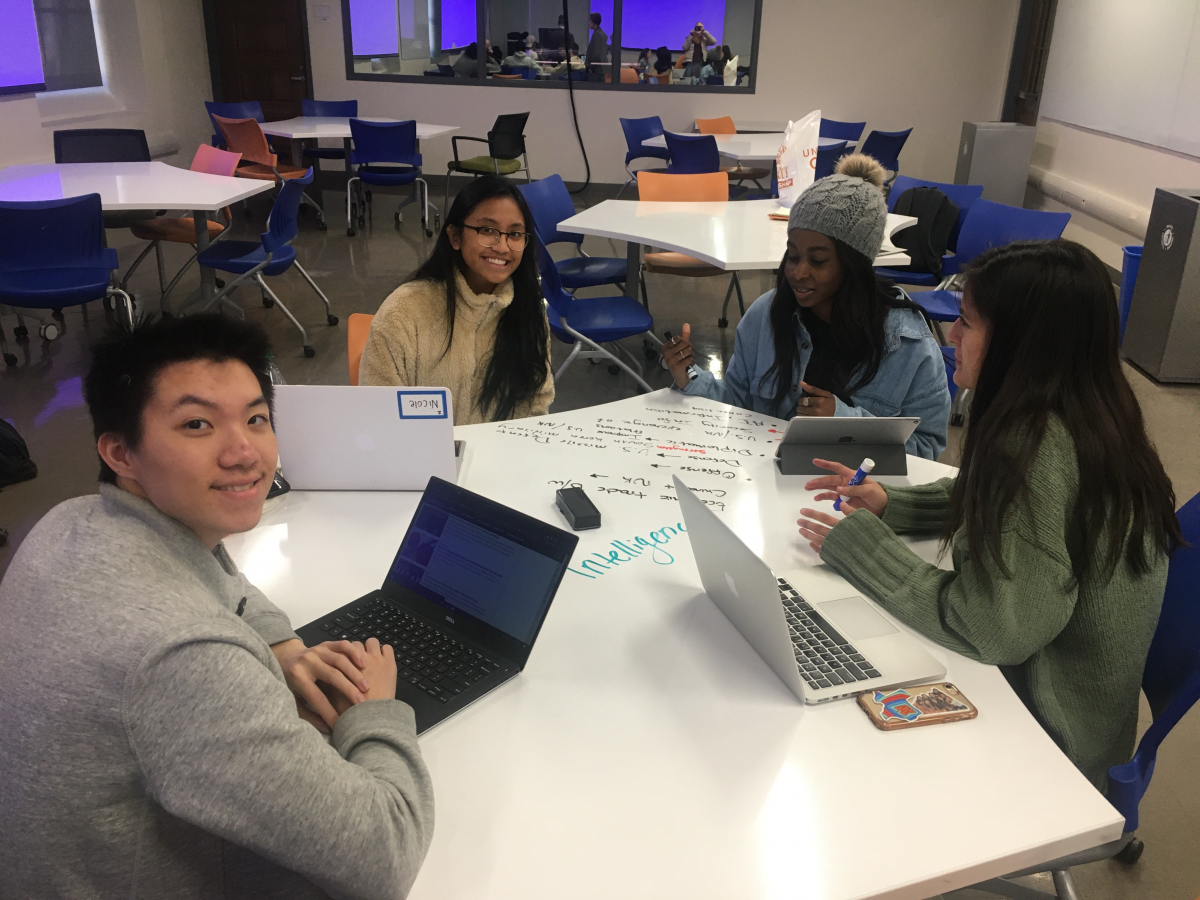 Trend Micro Cybersecurity Course
Trend Micro is a global company providing enterprise and personal cybersecurity products and services. Taught by Chris Prosise and supported by Chinmayee Kulkarni and Siddhesh Krishnan.
"The NSC 323 Cybersecurity Innovation class had an amazing time this semester, despite the pandemic. The students were able to work with mentors from Trend Micro, hear guest lectures from entrepreneurs and venture capitalists, and learn from Professor Chris Prosise, our resident cybersecurity expert and entrepreneur here at UTCS. We had 5 groups this semester and their topics included Creating Transparency in Your Digital Home, Identifying Medical Devices from Network Traffic, Medical Device Safety Intelligence, Microservices Performance Profiling, and Network Fault Prediction from Telemetry Data. While conducting deep technical research and building out their products, they also conducted market research, competitive analysis, and financial analysis for their new ventures. Trend Micro provided each and every student with a myriad of resources that each team could use to develop their technical solution. Over the course of the semester, these teams learned to manage technical and business deliverables for their semester-long projects, read 3 books relating to entrepreneurship, and wrote reflection papers on the readings and guest lectures. At the end of the semester, these teams completed a final pitch that detailed their problem statement & solution, included a live demo for their technical end product, and provided key financial metrics & next steps for their products. This class provided valuable resources to each student enrolled and allowed them to create a network of professionals and a multidisciplinary skillset that will last them for a lifetime.
We are so proud of what they accomplished this semester and look forward to some of these products scaling up in the future!" - Chinmayee Kulkarni and Siddhesh Krishnan