Fall 2021 Practicum Courses are planned to be in-person.
Are you wondering if you should become an Inventor? Please watch this video HERE from some of our past students explaining how they became Inventors! Spoiler Alert: You would make a great Inventor : )
If you'd like to learn more about how to get connected, please take a look at our 16 minute recorded Fall 2021 Inventors Info Session HERE or join us on Wednesdays from 3:30-4pm CST on Zoom HERE to ask questions and meet an Inventors Program leader!

Project Topics:
Read past project statements HERE (google folder) which range from road safety systems, to health informatics, to water accessibility.

Student Story Highlights:
Obinna Akahara (left photo) was part of the "Supersight" team. His team won a Inventors Showcase award in Spring 2019, presented at the DisrupTexas competition, and even got to ride along with the Austin Fire Department! Alyssa Cruz and Zaina Bathily (right photo) received a summer fellowship to continue developing their rapid blood filtration product for emergency blood transfusions.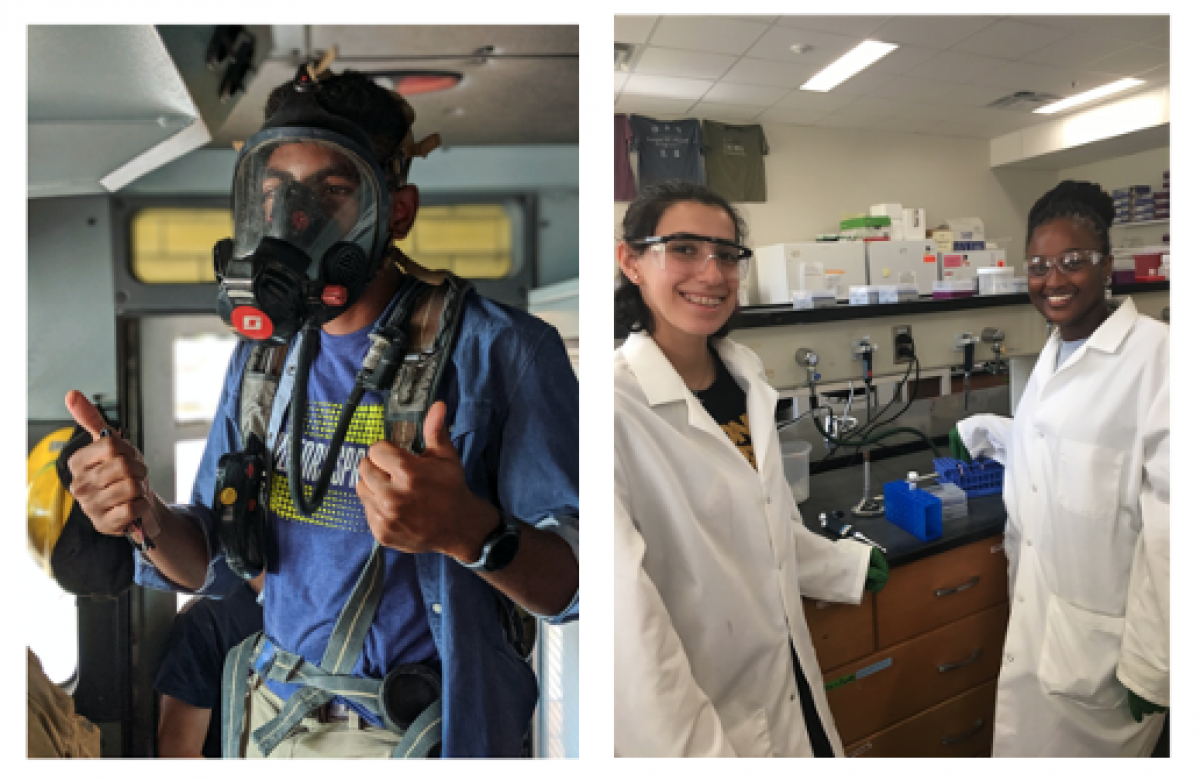 Additional Credit Bonus:
In addition to the entrepreneurship minor, some BDPs, and independent inquiry flag, relevant projects may count for Elements of Computing Certificate w/Elements advisor approval
Inventors Program Practicum for Energy - ConocoPhillips
NSC 325 48030 TTH 9:30-11am

Partner with data scientists and engineers from ConocoPhillips designing predictive algorithms, interactive dashboards, and analytic approaches to better monitor oil & gas production, safety features, and fracking capabilities.
Instructors & Mentorship:
Meet with Data Scientists & Engineers from ConocoPhillips! Also receive mentorship from Dr. Michael Pyrcz of UT's Petroleum & Geosystems Engineering
Project Topics:
Project challenge statements range from predicting when a rod pump might fail, to identifying next drill sites based on geological data!


Inventors Program Practicum Green - Green Fund, UT Office of Sustainability
NSC 325 48035 TTH 2-3:30pm

Develop green practices and technologies to support a greener UT Campus!

Instructors & Mentorship:
Receive mentorship from UT Austin's Sustainability leaders in Facilities, Housing & Dining, and Environmental Research with support from the Green Fund from the University Office of Sustainability.

Project Topics:
Project topics can range from water testing devices, to monitoring waste production, to developing sustainability communications initiatives across campus.


Additional Credit Bonus:

This course counts toward the entrepreneurship minor, some BDPs, and the independent inquiry flag.
Inventors Program Practicum for Health - Texas Health Catalyst (Dell Med)
NSC 325 48040 TTH 12:30-2pm

Experience problem scoping, idea formation, and light prototyping in a health innovation space!

Instructors & Mentorship:
Receive mentorship from leaders in Texas Health Catalyst with the Dell Medical School.
Project Topics:
Project topics will typically focus on personal health device innovation.

Credit Bonus:
This course counts toward the entrepreneurship minor, some BDPs, and the independent inquiry flag.
General Information about the Inventors Program
Innovate in your time in the College of Natural Sciences or Cockrell School of Engineering.

Connect with real-world research in the community, and learn the process of taking a product to market.
From interacting with potential customers or users, to partnering with industry leads, to building skills and gaining experiences valuable for your future, this is a chance to be at the table from the first stages of development through implementation.
Engage in an all-day problem-solving session.
Inventors Sprints are one-day events where student teams come together to solve a problem presented by a partner from the real world. Sprints give you a great chance to gain professional development experience and build your resumes. You get to make connections with faculty and industry sponsors — a great way to jumpstart a new research or internship opportunity or meet a potential employer!
Get course credit in the one-of-a-kind practicum class.
You'll learn the process of taking a product to market in a number of ways: by talking with stakeholders, prototyping products, conducting experiments and developing a marketing plan. These courses qualify for UT's entrepreneurship minor, some BDPs, some degree-bearing credit, and the Independent Inquiry flag!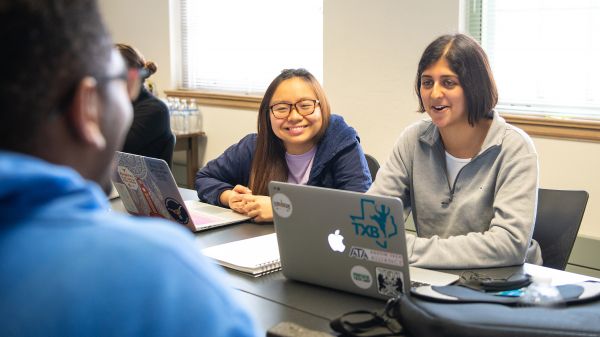 Develop a team to work together around a great idea.
This is an immersive experience, and it happens in community with other students, mentors and community or industry stakeholders. You'll learn entrepreneurialism and to apply scientific thinking to understanding important customer and commercialization concepts.

Learn all about intellectual property and the Inventors Program »
Getting Started as a Student
The recommended path to join the Inventors Program is to register for the Inventors Program Practicum Course. This program satisfies some of the requirements for an entrepreneurship minor. We also encourage you to participate in a day-long Inventors Sprint.
First-generation and underrepresented students are strongly encouraged to participate.
After the first year, the Inventors Program supports you so you can:
continue working with your team on the product or service you developed
pursue other course credit and competitive fellowships
complete your entrepreneurship minor
complete an industry internship
engage with startup resources at UT and in Austin
Contact us with your questions at inventors@cns.utexas.edu.