***Fall 2020 Practicum Course Updates as of 7/9/20: Some of our NSC 325 Practicum courses are listed as hybrid/blended and others as web-based. We are planning to offer our courses so that you can participate fully online *OR* in-person. We can't make changes to the course schedule for a little while, but when we can we'll update them to clarify the online OR in-person options.
Innovate in your time in the College of Natural Sciences or Cockrell School of Engineering.

Connect with real-world research in the community, and learn the process of taking a product to market.
From interacting with potential customers or users, to partnering with industry leads, to building skills and gaining experiences valuable for your future, this is a chance to be at the table from the first stages of development through implementation.
Engage in an all-day problem-solving session.
Inventors Sprints are one-day events where student teams come together to solve a problem presented by a partner from the real world. Sprints give you a great chance to gain professional development experience and build your resumes. You get to make connections with faculty and industry sponsors — a great way to jumpstart a new research or internship opportunity or meet a potential employer!
Get course credit in the one-of-a-kind practicum class.
You'll learn the process of taking a product to market in a number of ways: by talking with stakeholders, prototyping products, conducting experiments and developing a marketing plan. These courses qualify for UT's entrepreneurship minor.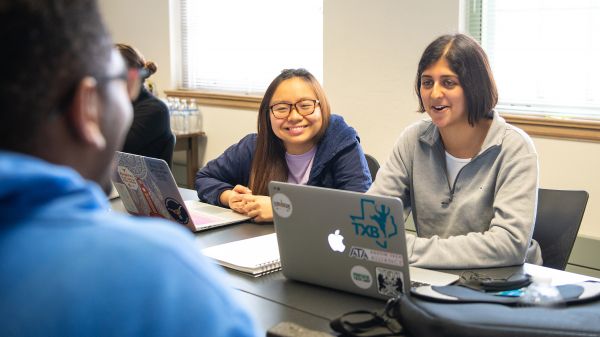 Develop a team to work together around a great idea.
This is an immersive experience, and it happens in community with other students, mentors and community or industry stakeholders. You'll learn entrepreneurialism and to apply scientific thinking to understanding important customer and commercialization concepts.

Learn all about intellectual property and the Inventors Program »
Getting Started as a Student
The recommended path to join the Inventors Program is to register for the Inventors Program Practicum Course. This program satisfies some of the requirements for an entrepreneurship minor. We also encourage you to participate in a day-long Inventors Sprint.
First-generation and underrepresented students are strongly encouraged to participate.
After the first year, the Inventors Program supports you so you can:
continue working with your team on the product or service you developed
pursue other course credit and competitive fellowships
complete your entrepreneurship minor
complete an industry internship
engage with startup resources at UT and in Austin
Contact us with your questions at inventors@cns.utexas.edu.